When it comes to skincare, ingredient-led brands have helped democratise the landscape for consumers by providing transparency around ingredients.
A focus that seems to reign supreme. However, when it comes to effective skincare, ingredients are only half the equation; formula is KEY.
At 1611 LABS, we engineer intelligent formulas to deliver optimum results.
Below we highlight four key formulation principles that are important when determining whether a product is going to deliver on results.
1 – GRADE
Looking at an INCI list will tell you if that key ingredient is present in the product you're looking for, however what you also need to consider is the grade of said ingredient.
Grade determines the active content level % that is found within the specific ingredient. The higher the grade, the higher the active content level; the better it's performance.
2 – EXTRACTION METHOD
Such as plant fractionation; used in 1611 LABS formulas determines the purity of the ingredient. Extraction methods are used to isolate the active molecule from the host material i.e plant leaf, flower or stem; to create high-performing active ingredients that deliver exceptional results.
The type of extraction method used determines the level of purity.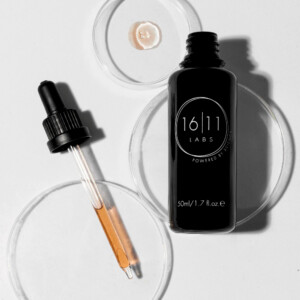 3 – DELIVERY SYSTEM
The most important, as this is the vehicle that gets the actives to the target site within the skin.
They help improve stability, efficacy and reduce active ingredient irritation within the formula.
Without the appropriate vehicle, the active ingredients will not perform adequately due to certain drawbacks such as instability, often found within active ingredients.
4 – pH
Often overlooked, pH is vital when it comes to formulating skincare. Certain ingredients are only effective at specific pH levels.
Formulas developed need to work in synergy with pH levels of ingredients in order for them to be effective.
It's almost impossible for a consumer to determine all the factors above. This relies on education and transparency from brands.
So, when choosing a product; look at the overall formula and who it's formulated for. Never choose a product based off ingredients list alone.
At 1611 LABS, our approach is always FORMULA FIRST!